The Container, by Clare Bayley, tells the story of five characters stowed away in the back of a lorry journeying to what they hope will be a better life. The Welsh premiere of this play was produced by the Welsh Refugee Council & Sherman Cymru and performed inside a 40ft shipping container.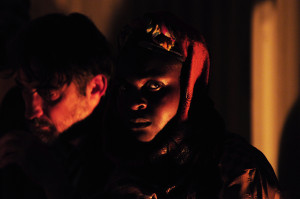 Review in The Guardian  ★★★★

'The setting works tremendously well. Tom Raybould's sound design creates a sense of a truck moving, jolting, shuddering to an ominous stop. Mutual suspicion throbs through the container, and it's hard to know who is telling the truth. There are hugely affecting details. A teenage girl carries a letter addressed to the Queen, whom she trusts will give her a job; the Afghan woman's prized gun, which she carries to defend herself or sell, is revealed to be "old and broken".
Bridget Keehan's direction makes the most of the space, amplifying points at which violence erupts or emotions can no longer be contained. The cast give haunting portrayals of lives confined to intolerable uncertainty in bewildering squalor. They can't remember how many nights or days they've been in the container. They also don't know what hope or horror lies beyond it.'
The Container
Mae The Container, gan Clare Bayley, yn adrodd stori pum cymeriad sydd wedi'u cuddio yng nghefn lori yn teithio at y gobaith o fywyd gwell. Cynhyrchwyd dangosiad cyntaf Cymru o'r ddrama hon gan Gyngor Ffoaduriaid Cymru a Sherman Cymru a chafodd ei pherfformio mewn cynhwysydd morgludiant 40 troedfedd.